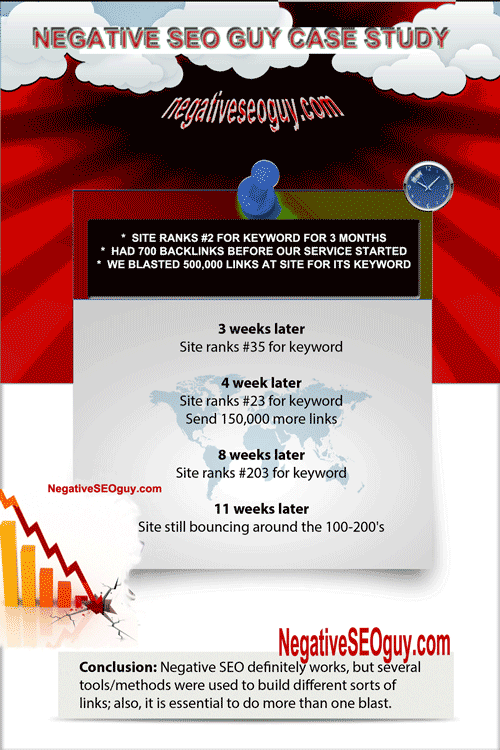 Some of our clients are more visually-oriented, and so we have put together an infographic, based upon a real-life case study, which illustrates the effectiveness of negative SEO services we supply to our clients for the purpose of online reputation management, search engine ranking, and to help them prosper in their business.
This test was done on one of our own sites, which we ranked for a few keywords related to the travel industry. We'd ranked the site for several months prior by using a mix of brand and keyword related links.
The site had approximately 5,000 words of well-written text, proper onpage SEO, a couple YouTube videos linking back to the homepage, social signals, a premium theme and hosting…everything someone would normally have in place on a regular website.
You can clearly see how, over time, the effects of the links built decreased the website's ranking in the search engine results.
Like positive SEO, negative SEO does take time to see results–sometimes it is a one-shot deal like the one illustrated below, but often it requires a bi-weekly or monthly campaign.
If your reputation is at stake, and you are tired of having damaging personal information online about you or your business, order right now and let us help you repair your image and regain your dignity.